Brother Beginner Sewing Machines
Best Brother Beginner Sewing Machines
"A gentle heart is tied with an easy thread." ~George Herbert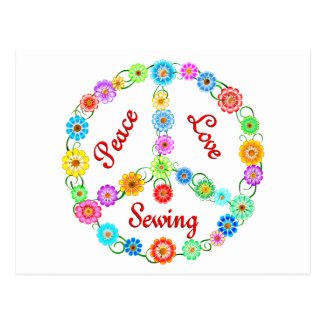 by Aboutfun Design unique photo postcard at zazzle.com
I remember when Brother beginner sewing machines starting showing up in the sewing shops. Before that everyone had Singer sewing machines in their shops. But I can see why people like them, as you get a lot of bang for your buck when you buy a Brother beginner sewing machine.
Since then they have become very popular and a staple in fabric shops everywhere. They are simple to use, and the instructions to use them are very easy to understand. Plus for fabric shops, they are nice to have as if one breaks, they aren't much money to replace. That's the biggest selling point of Brother beginner sewing machines. So if price is your main concern, a Brother sewing machine might be your best choice. They use them on the Project Runway TV show, so that should tell you something.
They are lighter too, so easier to carry around. That's because the parts are plastic, not metal. This can be good or bad, depending. Over time, plastic tends to break faster than metal. But maybe by that time you will want more advanced features or a newer model anyway, so you don't care and want the lightweight aspect of a sewing machine.
Here are the Brother sewing machines for beginners I have reviewed on my site. I have included a couple that are a little more advanced, but they are still easy to use and will last you if you become a more advanced seamstress.
Just want to look quickly for yourself? Click here: Brother sewing machines beginners love!
Best Inexpensive Sewing Machine for Beginners
Brother 10 Stitch Easy Sewing Machine
Brother 17 Stitch Easy to Use Sewing Machine
Brother 27 Stitch Full Feature Sewing Machine
Brother Advanced Sewing Machine with 25 Stitches
Brother Full Featured 60 Stitch Sewing Machine