Pink Sewing Machines
Pink Sewing Machines for Pink Lovers Who Sew
Pink Sewing Machines are for Pink Lovers who sew, not just kids who sew. Manufacturers get it, we love our Pink items and there are lots of Pink Sewing Machines and Pink Sewing Cases and Pink Sewing Accessories. I love Pink myself and I love to sew, so I had fun finding Pink sewing stuff for me and you.
So here you will find all the Pink Sewing machines available, and videos and other resources to help you sew, especially if you are new to sewing. Enjoy!
In a hurry? Click here for Pink Sewing Machines!
Image: Pink Barbie Sewing Machine, Available below, courtesy of Amazon.
"A gentle heart is tied with an easy thread."




~George Herbert
Hello Kitty Pink Sewing Machine
Most Popular Pink Sewing Machine
As you can imagine, a lot of the pink sewing machines are geared towards very young girls. So this brings up a dilemma. There are toy sewing machines, and there are real sewing machines. The chainstitch sewing machines are really only toys. You will have to teach your child how to either tie off the threads, or turn the piece around and backstitch over the chain. It might mean you are the one who ends up doing this for them. But the good news is that for a very young child who wants to sew, they are safer than real sewing machines. I've sewn my fingers a few times. But if your child is older than 7, I recommend a real sewing machine with a bobbin so it's less frustrating.
Hello Kitty Chain Stitch Sewing Machine
 Hello Kitty Chainstitch Sewing Machine & Bead Applicator Activity Set
For very young children.(Ones who love Hello Kitty)
This little set has a lot of accessories and for the child who is dying to sew it might be okay, but see my note above. It does come with a lot of really cute accessories that will help her make cute crafts. So it's worth it for getting those, as she can have lots of fun without using the sewing machine itself. Plus these will help with hand sewing for her doll clothes, and that's a good way to practice. I got started by making doll clothes so I know that works!
"No cord or cable can draw so forcibly,




or bind so fast,




as love can do with a single thread."




~Robert Burton
Singer Sewing Machine White With Pink Trim
Top Selling Pink Sewing Machine
 Singer Zig Zag Chainstitch Sewing Machine-
Singer Chain Stitch Battery Operated Sewing Machine
This is a Singer and I love Singer machines, but it's still a toy, not a real sewing machine. And you have to have batteries on hand too. Only for children younger than 7 who are really wanting to sew on a machine.
NKOK Discovery Kids Chain Stitch Sewing Machine
Pink Sewing Machine
 NKOK Discovery Kids Chainstitch Sewing Machine
This is another chains stitch sewing machine and requires batteries. Only for very young children. You may wonder why I put these chain stitch sewing machines on here at all. Given what I've said that's a good question. But I've had readers write to me and ask why I don't have them. So these are the pink ones I've found for those of you who insist on getting one for your very young child. Just know that she may get frustrated and give up on sewing unless you sit with her and show her how to tie off the threads.
Sewing Rainbows Postage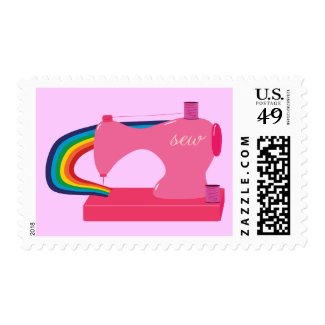 by toxiferous View Rainbow Stamps online at zazzle
Pink Barbie Sewing Machine
Most Wanted Pink Sewing Machine
Barbie Lightweight Portable Sewing Machine
 Barbie Lightweight Portable Sewing Machine
I have a hard time imagining Barbie sewing anything, but this is a real sewing machine with bobbins and it's the perfect size for a child. Features free-arm sewing, speed control button, easy-wind/drop-in bobbin system and power switch. The lower gears are constructed of heavy-duty metal for years of use, and the machine comes pre-threaded and ready to sew. Includes AC/DC adapter. Imported. I would use this for crafts too!
Singer Zig Zag Pink Trimmed Sewing Machine
 Singer Simple Pink Sewing Machine
This is what Singer calls a Simple Singer Sewing Machine, Model 3223. It is a real sewing machine with 8 different stitches so you can do lots of sewing and crafting with ease. Great for beginners! Also great for crafters, as sometimes you don't want to drag out the big sewing machine, and just want to do a few quick stitches. Or for mending, it's much easier to set this one up and get the job done fast!
Brother Sewing Machine With Pink Trim
 Brother XL2610 Free-Arm Sewing Machine
This is a Brother Sewing Machine With 25 Built-in Designs and drop in bobbin plus free arm sewing for easier sewing on small areas. It has almost 300 reviews on Amazon and almost 5 stars as its rating, so a fave among seamstresses world wide! Brother has taken the sewing world by storm and this is one of its most popular models. It will last you a long time as it has all you need for now and years to come. Brother is so sure you will love this sewing machine they offer a 25 year warranty! If you are an adult and want a full size Pink sewing machine, this one is perfect for you!
Toyo Sewing Machine
Hello Kitty Compact Sewing Machine
 Toyo sewing machine ( Toyo Seiki Kogyo ) Hello Kitty compact sewing machine KT-40
Hello Kitty? Check. Pink? Check. Cute? Check, check, check! How cute is this sewing machine? I want it to do crafts. But it would be great for a child who wants to get going on a sewing machine, and it's a real sewing machine, not a toy! If you or your child loves Hello Kitty, I think this one is the one you will want! Toyo is the only company so far that makes the Hello Kitty sewing machine besides Janome. If you want to see more Hello Kitty sewing machines, but not necessarily Pink or for kids,  go here.
"Humankind has not woven the web of life.




We are but one thread within it.




Whatever we do to the web, we do to ourselves.




All things are bound together. All things connect."




~Chief Seattle
Here's a video to give you some ideas on how to teach your child to sew.